Kreul Gold leaf priming milk, pasty, 50 ml
Content: 50 ml
Article number
570 176
Available
Delivery: Monday, 2023-12-04 - Tuesday, 2023-12-05

All prices plus
shipping
Delivery: Monday, 2023-12-04 - Tuesday, 2023-12-05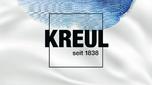 The classic KREUL Gold leaf priming milkis a viscous adhesive, which is essential for the professional application of Leaf metal on surfaces.
This glue is extra pasty so that flakes can be applied with the help of templates Leaf metal . It is suitable for both absorbent and non-absorbent surfaces such as wood, MDF, metal, glass, canvas and also stronger Paper ones. The Leaf metal Gold leaf priming milk is water-based.
Tips to use:
Applicable to: glass, wood, stretched canvas, ceramics, creative casting compounds (cured), plastic, metal, paper, cardboard / carton, porcelain, polystyrene, terracotta / clay.
Apply with: Brush, sponge, spatula.
Preparations: The surface must be clean and free of dust and grease.
Processing of material: Apply the pasty gold leaf priming milk with the desired painting aid and allow to dry until transparent. apply leaf metal and press on carefully with a soft dry brush. Carefully remove any residue with a brush or cloth. After drying, polish as desired with a soft polishing cloth or cotton wool.
Time to dry: Transparent drying time approx. 20 minutes. Through-drying at least 12 hours. Complete drying several days.
Work to finish: To protect against corrosion, topcoat with KREUL Topcoat for leaf metal. For exterior use or on highly absorbent surfaces, use KREUL Zaponlack.
This is to be noted: Ideal for the stenciling technique, as perfect patterns can be created in gold look.
Age recommendation: There is no age recommendation

Applicable to: Stretcher frame, Creative casting compounds (cured), Cardboard / carton, Terracotta / Clay

Scope of application: Inside

transparent: ✓

To be applied with: brushes, sponge, spatula

Content: 50 ml

Drying time: 12 hours

Brand: Kreul Kreative

Notices under the CLP Regulation
not subject to classification/labelling
Quick View

Content: 40 pieces; Material: Copper, Zinc; L: 14 cm; B: 14 cm

Content: 40 pieces; Material: Copper, Zinc; L: 14 cm; B: 14 cm

Further variants available
Customers who bought this article have also purchased the following articles: