Aquarelle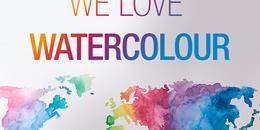 Aquarelle are delicate colour gradients, which are painted with watercolour paints. is Aquarelle also called Watercolor. It is not only the classical watercolour painting but also the designing and lettering with watercolours. Paint Aquarelle on wood, Paper, on greeting cards, on textiles and more.
So beautiful is Aquarelle
What are you looking for?
Have you discovered it yet?