KREUL Gold leaf priming milk, 50 ml
Content: 50 ml
Article number
570 022
Available
Delivery time 4-6 business days
All prices plus
shipping
With you in 4-6 working days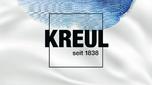 This Gold leaf priming milk is a special water-based adhesive for applying leaf metals or Leaf metalflakes to a wide variety of decorative objects for indoor use. Suitable for absorbent and non-absorbent surfaces
Apply Gold leaf priming milk thinly with a brush to the grease-free and clean surface. After approx. 20 minutes the surface is ready to absorb for 1 to 24 hours, depending on the surface. Place the Leaf metal-flakes or the Leaf metal with the help of a brush or cloth gently on the surface and press it prickly
After flashing off, the remains can be easily removed with a cloth or brush
Tips to use:
Applicable to: concrete, glass, wood, stretched canvas, ceramics, plastic, leather, cardboard / carton, polystyrene, terracotta / clay.
Apply with: Brush.
Preparations: The surface to be painted must be clean and free of dust and grease.
Processing of material: Apply the liquid gold leaf priming milk evenly with a brush. allow transparent to dry. For highly absorbent substrates, apply twice. Apply leaf metal and press on gently with a soft dry brush. Carefully remove any residue with a brush or cloth. Allow to dry thoroughly and then polish with a soft polishing cloth or cotton wool as desired.
Time to dry: 20 min to dry transparent. At least 12 hours to dry through. For final drying it needs several days.
Work to finish: To protect against corrosion, topcoat with KREUL topcoat for leaf metal.
This is to be noted: For exterior use, as well as on substrates such as concrete, plaster, terracotta and clay, use KREUL Zaponlack.
Applicable to: Stretcher frame, Cardboard / carton, Terracotta / Clay

Scope of application: Inside

transparent: ✓

To be applied with: brushes

Content: 50 ml

Drying time: 12 hours

Colourgroup: white

Brand: Kreul Kreative

Language: de, en, fr, it

Notices under the CLP Regulation
not subject to classification/labelling
Customers who bought this article have also purchased the following articles: