UHU Power Adhesive Creative, 31 g
Solvent-free; Content: 31 g
Article number
110 617
Available
Delivery time 4-6 business days
All prices plus
shipping
With you in 4-6 working days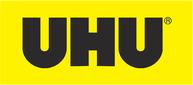 The perfect non-drip adhesive for cardboard and craft paper from UHU. Colourless, fast adhesive for all Paper and all types of cardboard. Does not pull threads. Ideal for gluing handicraft paper and cardboard. For materials such as poster board, corrugated paper, Coloured paper, coloured paper, photo board, lampshade paper, velour paper, parchment, uncoated paper and much more
Tips to use:

Applicable to: Paper, papier mâché, cardboard / paperboard.
Apply with: Liner vials / Pen, brush.
Preparations: The surface must be dry, free of dust and grease.
Processing of material: The adhesive reliably fixes all materials around cardboard and craft paper and dries quickly transparent.
Time to dry: Fast drying.

Applicable to: Paper mache, Cardboard / carton, Textiles / Fabrics

Scope of application: Inside

transparent: ✓, transparent

To be applied with: liner bottle / tube, brushes

Content: 31 g

Solvent-free: ✓

Brand: UHU

Drying time: Fast drying

Notices under the CLP Regulation

H225 - Highly flammable liquid and vapour.
H336 - May cause drowsiness or dizziness.
Danger
Customers who bought this article have also purchased the following articles: