UHU creative "Fabric, Felt & ribbons"
Solvent-free; Content: 40 g
Article number
110 631
Available
Delivery: Wednesday, 2023-03-29 - Thursday, 2023-03-30
All prices plus
shipping
With you in 4-6 working days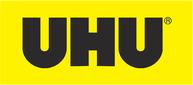 The UHU Creativ glues many fabrics, especially suitable for cotton, Linen, Jeans, Jute, Wool, cotton wool, etc. In order to achieve resistance to washing and cleaning, the glued joint must be ironed over. Dries colourlessly. Also Cords suitable for Felt, ribbons, wool, cotton wool, Pompoms, pipe cleaners. Design dolls, puppets, soft toys, clothes, bags, silk flowers, greeting cards, book covers, table and room decorations and much more. Without solvent. Content: 40 g.
Tips to use:

Applicable to: Felt, textiles / fabrics, tapes.
Apply with: Liner vials / Pen, brush, Spatula.
Preparations: The surface must be dry, free of dust and grease.
Processing of material: The adhesive, which is resistant to washing and cleaning, can be ironed after approx. 30 minutes.
Time to dry: Fast drying.

Applicable to: Textiles / Fabrics

Scope of application: Inside

transparent: ✓, transparent

To be applied with: liner bottle / tube, brushes, spatula

Content: 40 g

Solvent-free: ✓

Brand: UHU

Made in Germany:

Drying time: Fast drying

Notices under the CLP Regulation
not subject to classification/labelling
Customers who bought this article have also purchased the following articles: