UHU creativ "Styrofoam & Craft Foil
Content: 25 g
Article number
110 655
Available
Delivery time 4-6 business days
All prices plus
shipping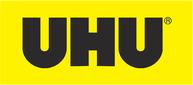 UHU Creativ for Polystyrene and craft films.
For gluing Polystyrene, aluminium craft film, cellophane, PVC film. Does not attack polystyrene surfaces and foil colour coatings. For handicrafts made of Polystyrene decorative balls, cans or wreaths of flowers and for creative items made of foil such as vases, pots, poinsettias, Lanterns and many more.
One tube contains 33 ml
Tips to use:

Applicable to: Polystyrene, aluminum craft foil, cellophane, PVC film.
Apply with: Liner vials / Pen.
Preparations: The surface must be dry, free of dust and grease.
Processing of material: Apply the adhesive to both surfaces. When the adhesive has dried slightly, join the surfaces together. It is now no longer possible to correct the glued surfaces. The more pressure applied, the better the bonding result.
Time to dry: Fast drying depending on the amount of adhesive and absorbency of the materials to be bonded.

Applicable to: Plastic, Styrofoam

Scope of application: Inside

Drying: transparent

To be applied with: liner bottle / tube

Content: 25 g

Brand: UHU

Drying time: Fast drying

Notices under the CLP Regulation


H225 - Highly flammable liquid and vapour.
H336 - May cause drowsiness or dizziness.
H411 - Toxic to aquatic life with long lasting effects.
Danger
Customers who bought this article have also purchased the following articles: