UHU adhesive cartridges LT 110
Solvent-free; Content: 125 g
Article number
132 763
Available
Delivery: Monday, 2023-10-02 - Tuesday, 2023-10-03

All prices plus
shipping
Delivery: Monday, 2023-10-02 - Tuesday, 2023-10-03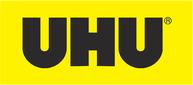 UHU adhesive cartridges that melt already at 110°C. Also suitable for heat sensitive materials like PVC Polystyrene, foils, soft PVC.
The special oval UHU adhesive cartridges LOW MELT 110°C glue almost all materials fast, firmly and reliably. The oval shape prevents accidental insertion into heat glue guns. Without solvent
Tips to use:
Applicable to: Felt, glass, rubber, wood, cork, ceramics, plastics, leather, metal, foam sheets, paper, papier-mâché, cardboard / carton, Polystyrene, Terracotta / clay, textiles / fabrics.
Apply with: Hot glue gun.
Preparations: The surfaces to be glued must be clean, dry and free of dust and grease.
Processing of material: Apply the glue quickly and not too sparingly and glue the parts to be glued together immediately. It is recommended to always apply the adhesive to the harder material. On flexible surfaces, apply the adhesive in thick lines. On harder surfaces, apply in thick lines or in dots. Also for repair work to fill small cracks or holes.
This is to be noted: Cured adhesive residues can be removed mechanically only. Do not use below +5°C.
Applicable to: Paper mache, Cardboard / carton, Terracotta / Clay, Textiles / Fabrics

Scope of application: Inside

transparent: ✓

To be applied with: hot glue gun

Content: 125 g

Solvent-free: ✓

Melting point: 110

Drying time: 30 seconds

Brand: UHU

Notices under the CLP Regulation
not subject to classification/labelling
There are no ideas & instructions for this article yet.
Frequently bought together
---
Customers who bought this article have also purchased the following articles: