UHU adhesive cartridges LT 110
Inhalt: 125 g, Lösungsmittelfrei, Auftrocknung: transparent, Schmelzpunkt: 110 °C, Trocknungszeit: 30 seconds
Article number
132 763
Available
Delivery time 4-6 business days
All prices plus
shipping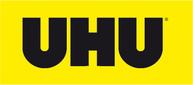 UHU adhesive cartridges that melt already at 110°C. Also suitable for heat sensitive materials like PVC Polystyrene, foils, soft PVC.

The special oval UHU adhesive cartridges LOW MELT 110°C glue almost all materials fast, firmly and reliably. The oval shape prevents accidental insertion into heat glue guns. Without solvent


Tips to use:

Applicable to: Felt, glass, rubber, wood, cork, ceramics, plastics, leather, metal, foam sheets, paper, papier-mâché, cardboard / carton, Polystyrene, Terracotta / clay, textiles / fabrics.
Apply with: Hot glue gun.
Preparations: The surfaces to be glued must be clean, dry and free of dust and grease.
Processing of material: Ideal for handicrafts, design or repair work.
This is to be noted: Cured adhesive residues can be removed mechanically only.
Content: 125 g

Solvent-free:

Finish: transparent

Metting point: 110 °C

Field of application: Inside

Drying time: 30 seconds

Notices under the CLP Regulation
not subject to classification/labelling
There are no ideas & instructions for this article yet.
Customers who bought this article have also purchased the following articles: