UHU glue gun LT 110
Auftrocknung: , Schmelzpunkt: 110 °C, Trocknungszeit: , Material: Plastic
Article number
132 749
Available
Delivery time 4-6 business days
All prices plus
shipping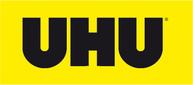 The UHU glue gun LT 110 is a low temperature glue gun. The low melting point shortens the open time, and work can be continued quickly. Glues almost all materials quickly and reliably. Melting temperature 110°C (conventional guns approx. 200°C). Short heating phase, approx. 3 - 5 min (conventional guns approx. 10 min). Also for heat sensitive materials such as Polystyrene.


Tips to use:

Applicable to: Almost all surfaces.
Apply with: Hot glue gun.
Preparations: Insert the mains plug into the socket. Push the glue stick through the feed opening into the feed channel and heat up the device for approx. 7 minutes. The material to be glued should be clean, dry and free of dust and grease.
Processing of material: Apply the glue to the gluing surface in dots and bring the workpieces together within 15-20 seconds. Apply uniform pressure over 30 seconds.
Time to dry: Fast Drying.
Work to finish: Allow to cool completely before packing away. Always unplug after use.
This is to be noted: Please read and follow all safety warnings and instructions. Failure to do so may result in electric shock, fire and/or serious injury. Do not allow children to play with the appliance. Risk of burns! Hot adhesive and equipment parts can cause burns. The adhesive and nozzle can become hot up to 110 °C. DO NOT touch the hot nozzle or the melting adhesive. Do not allow the hot adhesive to get on people or animals. In case of skin contact, immediately cool the affected area with cold water for a few minutes. Do not attempt to remove the adhesive from skin. Handle the device only by the handle. Intended for indoor use only. Always place the glue gun on the handle and the equipment stand. Always disconnect the power plug when not in use / when not working. Avoid contact with water and solvents. Danger of electric shock! Use a work surface. Sensitive surfaces can be damaged by the hot adhesive. After use, the adhesive may drip slightly. Adhesive stains on clothing can no longer be removed.
Finish:

Metting point: 110 °C

Field of application:

Drying time:

Material: Plastic

Customers who bought this article have also purchased the following articles: