KREUL Window Color "Power Pack"
Suitable for kids; Solvent-free
Article number
596 466
Available
Delivery time 4-6 business days
All prices plus
shipping
With you in 4-6 working days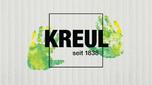 The C2 Glass Design Powerpack is a complete set of advantages in a practical carrying box. It contains 8 bottles of 125 ml Window Color paint each, 1 fine nozzle, 1 stable foil 35 x 20 cm, 1 foil 35 x 20 cm, 1 painting template and 1 instruction and brochure.

Create window pictures and window decorations in no time at all, which can be removed again and again.
Set contents:

8 bottles of 125 ml each in the colours Sapphire, Black, Raspberry, Cognac, Apple Green, Peach, White and Citron

1 fine nozzle

1 stable foil 35 x 20 cm

1 special foil 35 x 20 cm

Painting template
Tips to use:
Applicable to: Window panes, tiles, glass, mirrors and foil.
Apply with: Liner vials / pen.
Preparations: The surface should be clean, dry, dust and grease free. Processing of material: Select a motif and place it under the Window Color special foil. Now draw the contours on the foil with the contour paint and let it dry for approx. 2 hours. Then paint the motif with Window Color colours and let it dry for 24 hours. The colours can be mixed with each other.
Time to dry: Approx. 2 hours / 24 hours.
Work to finish: After time to dry you can remove the motif from the film and stick it on the window.
This is to be noted: To refresh the adhesive power after repeated use, the motif can be slightly moistened. Window pictures can be easily removed again without leaving any residue and redecorated.
Age recommendation: from 6 years

Applicable to: Window panes, Tiles, Mirror

Scope of application: Inside

To be applied with: liner bottle / tube

Suitable for kids: ✓

Solvent-free: ✓

Drying time: 24 hours

Colourgroup: multi

Brand: Kreul Kinder

Environmentally friendly:

Notices under the CLP Regulation
not subject to classification/labelling
There are no ideas & instructions for this article yet.
Customers who bought this article have also purchased the following articles: