KREUL leaf metal effect spray "Gold", 400 ml
Content: 400 ml
Article number
755 023
Available
Delivery: Friday, 2023-10-06 - Monday, 2023-10-09

All prices plus
shipping
Delivery: Friday, 2023-10-06 - Monday, 2023-10-09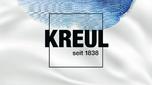 The KREUL leaf Metal Effect Spray "gold" is an extremely brilliant colour spray. The fine golden paint particles look almost like leaf metal goldsprayed on.
The gold spray is a quick-drying acrylic lacquer. An optimal effect is achieved on white surfaces. Before spraying the objects can be primed with a matt paint. Leaf metal effect spray can be used indoors and outdoors.
Tips to use:
Applicable to: Concrete, glass, wood, ceramics, plastic, metal, Paper, cardboard / carton, stone, terracotta / clay.
Apply with: spray bottle.
Preparations:: rust and remove dirt. Substrate must be clean, dry and free of grease.
Processing of material: Spray on the leaf metal effect spray in a cross pattern with a spraying distance of approx. 25 cm in several thin layers.
Time to dry: Fast drying.
This is to be noted: Optimum effect is achieved on white background. Shake can for 2 minutes before use.
Applicable to: Cardboard / carton, Stone, Terracotta / Clay

Scope of application: indoor/outdoor

Glossy: ✓

Content: 400 ml

Brand: Kreul Kreative

Drying time: Fast drying

Notices under the CLP Regulation

H222 - Extremely flammable aerosol.
H223 - Flammable aerosol.
H224 - Extremely flammable liquid and vapour.
H225 - Highly flammable liquid and vapour.
H226 - Flammable liquid and vapour.
H228 - Flammable solid.
H229 - Pressurised container: May burst if heated.
H319 - Causes serious eye irritation.
H336 - May cause drowsiness or dizziness.
Danger
Customers who bought this article have also purchased the following articles: