KREUL Disappearing ink pen
Line width: 1 - 2 mm
Article number
347 556
Available
Delivery: Thursday, 2023-06-08 - Friday, 2023-06-09
All prices plus
shipping
Delivery: Thursday, 2023-06-08 - Friday, 2023-06-09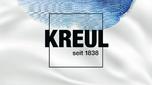 This disappearing ink pen is a must-have in any craft box:
With the disappearing pen it is possible to draw on all fabrics like silk, cotton, but also on other materials like cardboard or Stretched Canvas something temporary. Perfect for your markings that should disappear again!
The violet colour liquid of the pen is self-extinguishing
Tips for use
Applicable to: light textiles, Stretched Canvas, Paper, cardboard / carton, silk, textiles / fabrics.
Processing: For marking on textiles.
This must be observed: This is a non-permanent pen. The lines disappear after 2 - 4 days by themselves or in contact with water.
Applicable to: light textiles, Stretcher frame, Cardboard / carton, Textiles / Fabrics

Line width: 1 - 2 mm

Brand: Kreul Kreative

Notices under the CLP Regulation



H315 - Causes skin irritation.
H317 - May cause an allergic skin reaction.
H318 - Causes serious eye damage.
H351 - Suspected of causing cancer state route of exposure if it is conclusively proven that no other routes of exposure cause the hazard.
H371 - May cause damage to organs or state all organs affected, if known state route of exposure if it is conclusively proven that no otherroutes of exposure cause the hazard.
H373 - May cause damage to organs or state all organs affected, if known through prolonged orrepeated exposure state route of exposure if itis conclusively proven that no other routes ofexposure cause the hazard.
Danger
Customers who bought this article have also purchased the following articles: