UHU all-purpose adhesive "Extra", tube 20 g
Content: 20 g
Article number
502 27
Available
Delivery: Wednesday, 2023-10-04 - Thursday, 2023-10-05

All prices plus
shipping
Delivery: Wednesday, 2023-10-04 - Thursday, 2023-10-05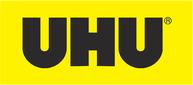 UHU extra all purpose glue. Extra strong glue for your handicraft work. Excellent for gluing paper and cardboard. Also for foam rubber. Also for mosaic technique: You can use it to glue mosaic stones on wood, papier-mâché, metal, glass, terracotta, ceramics and much more. For quick and crystal-clear gluing in the household, office, when doing handicrafts or model making
Tips to use:
Applicable to: Glass, wood, ceramics, metal, paper, papiermaché, cardboard / carton, terracotta / clay, foam sheets, mosaic and much more.
Apply with: Liner vials / pen.
Preparations: The surface must be dry, clean, dust and grease free. Plastic and metal can be bonded best if the surface is slightly roughened beforehand.
Processing of material: Apply the adhesive thinly to one side and bond immediately. Coat non-absorbent materials on both sides with the adhesive, allow to dry and apply again. Dried adhesive can be removed with acetone.
Time to dry: Fast drying. The adhesive is fully cured after approx. 24 hours.

Applicable to: Paper mache, Cardboard / carton, Terracotta / Clay, Textiles / Fabrics

Scope of application: Inside

transparent: ✓

To be applied with: liner bottle / tube

Content: 20 g

Drying time: 24 hours

Brand: UHU

Notices under the CLP Regulation

H225 - Highly flammable liquid and vapour.
H336 - May cause drowsiness or dizziness.
Danger
There are no ideas & instructions for this article yet.
Customers who bought this article have also purchased the following articles: