Hobby Line Craquelle Medium, 150 ml
Content: 150 ml
Article number
730 013
Available
Delivery: Wednesday, 2023-06-14 - Thursday, 2023-06-15
All prices plus
shipping
Delivery: Wednesday, 2023-06-14 - Thursday, 2023-06-15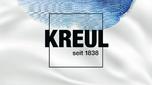 Hobby Line Craquelle Medium is a painting medium for creating with antique effect.
The medium, also known as crackle or tear lacquer, is applied to terracotta pots, Vaseswooden objects or other surfaces and tears the surface Antique look open (tear effect). An ideal effect for example in the Napkin technique.
The Craquelle medium is water-based. Content: 150ml.
Tips to use:
Applicable to: Wood, terracotta / clay, vases and more.
Apply with: Brush.
Preparations: The surface must be completely dry.
Processing of material: Apply chalk or matte paint, let dry and then apply the craquelle medium with a soft brush. After this coat has also dried, apply another thin coat chalk colour. The thinner this application, the finer the craquelle will be.

Applicable to: Terracotta / Clay

transparent: ✓

To be applied with: brushes

Content: 150 ml

Brand: Kreul Kreative

Made in Germany:

Notices under the CLP Regulation
not subject to classification/labelling
There are no ideas & instructions for this article yet.
Customers who bought this article have also purchased the following articles: