UHU superglue
Content: 3 g
Article number
505 00
Available
Delivery time 4-6 business days
All prices plus
shipping
With you in 4-6 working days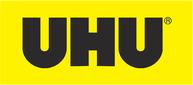 Extremely strong, liquid superglue with fine dosing tip. The innovative Direct-Stop-Technology provides a suck-back effect of the adhesive. Guaranteed controlled, precise, drip-free gluing without dripping. Dishwasher safe and water resistant.
The UHU superglue bonds materials such as porcelain, ceramics, many plastics (e.g. PVC, ABS), metal, rubber, wood and much more. The superglue is not suitable for Polystyrene.
Tips to use:
Applicable to: almost all solid surfaces such as felt, rubber, wood, ceramics, plastics, leather, metal, porcelain, textiles / fabrics, cork, creative casting compounds (cured), only partly for glass (loses strength and becomes brittle). Not suitable for polystyrene.
Apply with: Liner vials / pen.
Preparations: The surface must be clean, dry and free of dust and grease. The surfaces to be bonded should be a perfect fit.
Processing of material: Apply the adhesive as thinly as possible at room temperature to obtain the best result.
Time to dry: Fast drying.

Applicable to: Creative casting compounds (cured), Terracotta / Clay, Textiles / Fabrics

Scope of application: Inside

transparent: ✓, transparent

To be applied with: liner bottle / tube

Content: 3 g

Brand: UHU

Notices under the CLP Regulation
H315 - Causes skin irritation.
H319 - Causes serious eye irritation.
H335 - May cause respiratory irritation.
Attention
Customers who bought this article have also purchased the following articles: