UHU Handicraft glue, 90 g
Solvent-free; Content: 90 g
Article number
514 08
Available
Delivery: Thursday, 2023-12-14 - Friday, 2023-12-15

All prices plus
shipping
Delivery: Thursday, 2023-12-14 - Friday, 2023-12-15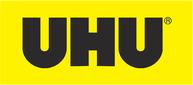 UHU Handicraft gluein the practical stand tube. The original from UHU, without solvent. It Handicraft glue is a fast setting adhesive that dries transparently. The glue is suitable for all common handicrafts: for Paper, cardboard, fabric, or even for your doll hobby ideal: for gluing on the tricot fabric/mask. It Handicraft glue belongs to the basic equipment
Tips to use:
Applicable to: Felt, plastic, leather, metal, paper, cardboard / carton, stone, polystyrene, textiles / fabrics, cork, raffia, dried and silk flowers.
Apply with: Liner vials / pen, brush.
Preparations: The surface should be dry, dust and grease free.
Processing of material: A must for every craft box! Smudged glue can be removed with warm water. After Time to dry the glue cannot be removed.
Time to dry: 3 - 10 minutes.

Age recommendation: There is no age recommendation

Applicable to: Cardboard / carton, Stone, Textiles / Fabrics

Scope of application: Inside

transparent: ✓

To be applied with: liner bottle / tube, brushes

Content: 90 g

Solvent-free: ✓

Drying time: 3 - 10 min

Brand: UHU

Notices under the CLP Regulation
not subject to classification/labelling
Customers who bought this article have also purchased the following articles: