UHU assembly adhesive, 200g
Solvent-free; Content: 200 g
Article number
110 679
Available
Delivery: Tuesday, 2023-10-03 - Wednesday, 2023-10-04

All prices plus
shipping
Delivery: Tuesday, 2023-10-03 - Wednesday, 2023-10-04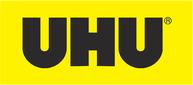 UHU assembly adhesive, 200 g. The UHU assembly adhesive is a very strong, universal and solvent-free assembly adhesive based on an acrylic dispersion. Ideal for mounting various craft materials made of wood, Stone, concrete, metal, many plastics, plaster and polystyrene on porous (absorbent) surfaces.
Tips to use:
Applicable to: Wood, plastic, metal, Stone, plaster, concrete, creative casting compounds (cured) and other absorbent, porous substrates.
Apply with: Brush, Spatula.
Preparations: The parts to be bonded must be dry, clean and free of dust and grease. One of the two materials to be bonded must be porous (absorbent).
Processing of material: Particularly suitable for interior use. Permanently elastic and can also be used for uneven surfaces. The adhesive is resistant to moisture and temperature.
Time to dry: 24 hours.

Applicable to: Plaster, Creative casting compounds (cured), Stone

Scope of application: indoor/outdoor

transparent: ✓

To be applied with: brushes, spatula

Content: 200 g

Solvent-free: ✓

Drying time: 24 hours

Brand: UHU

Notices under the CLP Regulation
not subject to classification/labelling
Customers who bought this article have also purchased the following articles: