Micro adhesive dots, 768 pieces
Diameter (outside): 3 mm; Self-adhesive; Content: 768 pieces; Material: Plastic
Article number
111 058
Available
Delivery: Tuesday, 2023-10-03 - Wednesday, 2023-10-04

All prices plus
shipping
Delivery: Tuesday, 2023-10-03 - Wednesday, 2023-10-04

These transparent micro-adhesive dots are highly adhesive on both sides.
With the 768 pieces, each approx. 3 mm large, you can quickly and cleanly fix Paper (photos), beads and other small accessories.
Use the adhesive dots, for example, for your Card design, for Lamps Design or for decorating tea light glasses
Tips to use:

Applicable to: Plastic, paper, cardboard, papier-mâché, cardboard.
Preparations: The substrate should be dust-free, clean and dry.
Processing of material: Peel off from the backing and stick on. Very suitable for smaller paper works.

Applicable to: Paper mache, Cardboard / carton

Diameter (outside): 3 mm

Content: 768 pieces

Self-adhesive: ✓

Brand: KNORR prandell

Material: Plastic

Notices under the CLP Regulation
not subject to classification/labelling
There are no ideas & instructions for this article yet.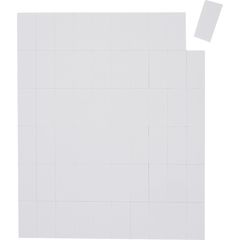 Quick View
Thickness: 2 mm; Self-adhesive; Content: 60 pieces; Material: Plastic; L: 20 cm; B: 10 cm
Quick View
Thickness: 1 mm; Self-adhesive; Content: 400 pieces; Material: Plastic; L: 5 mm; B: 5 mm
Thickness: 1.9 mm; Self-adhesive; Content: 400 pieces; Material: Plastic; L: 5 mm; B: 5 mm
Further variants available
Customers who bought this article have also purchased the following articles: