KREUL "Basic Set Wood stain ", 6 colours à 20 ml
Inhalt: 6 piece, Auftrocknung: glazing, Trocknungszeit:
Article number
754 552
Available again soon!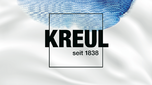 The KREUL Wood stain " Basis-Set" contains 20 ml each of natural in the Wood stain colours: White, Sun yellow, Cherry, Ultramarine, Pistachio, Maron. In addition you receive one Brushes and a manual.

KREUL Wood stain is a brilliant colour, developed for glazing untreated wooden objects: The object receives a colouration, but the natural wood structure remains visible. The water-based paint dries with a saliva-proof finish.
Set contents:
6 glasses of 20 ml Wood stain each in the colours: White, Sun yellow, Cherry, Ultramarine, Pistachio and chestnut
1 Brushes
Instructions
Tips to use:

Applicable to: untreated wooden objects, absorbent natural paper.
Apply with: brush, spray bottle.
Processing of material: the glaze preserves the natural structure of the wood.
Work to finish: A topcoat makes the surface waterproof.
Content: 6 piece

Finish: glazing

Field of application:

Drying time:

Notices under the CLP Regulation
not subject to classification/labelling
There are no ideas & instructions for this article yet.
Customers who bought this article have also purchased the following articles: