JAVANA Contour Liner, colourless, 20 ml
Content: 20 ml
Article number
346 979
Available
Delivery time 4-6 business days
All prices plus
shipping
With you in 4-6 working days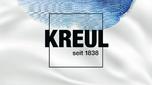 Javana Gutta Contour Lineris a colourless painting medium for drawing outlines and motifs on silk. The transparent colour is important for the delimitation of the individual colour areas in the Silk painting and prevents the colours from flowing into each other.
The Javana Contour Liner is developed for ironing, produced on water base. This Contour Liner dissolves from the silk during the first wash. The tube has a practical fine spray nozzle, with which you can apply it Contour Liner directly onto the silk and paint the finest lines.
Tips to use:
Applicable to: Cotton, linen, blended fabrics up to max. 20 % synthetic fibre, silk, viscose.
Apply with: Liner vials / pen.
Processing of material: The transparent colour prevents silk dyes from running and ensures precise contours.
Work to finish: Iron fixation. The contour liner is released from the silk during the first wash.

Applicable to: blended fabric up to max. 20 % synthetic fibre

transparent: ✓, transparent

To be applied with: liner bottle / tube

Content: 20 ml

Fixation:

Brand: Kreul Kreative

Notices under the CLP Regulation
not subject to classification/labelling
There are no ideas & instructions for this article yet.
Customers who bought this article have also purchased the following articles: