Creole Tattoo Pen "Tribals"
Content: 6 parts
Article number
760 928
Available
Delivery time 4-6 business days
All prices plus
shipping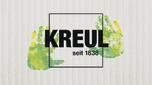 Water-based cosmetic ink. For creative painting and decorating of non-greasy Skin. ideal for beach, party or children's birthday party. Dermatologically tested. Durable up to 5 days depending on skin type. Cosmetic safe according to EG-guidelines. Content:4 Painter in Red, Henna, Black and Violet, 2 motif stencils and instructions.
Set contents:

4 tattoo pens in the colours Red, Henna, Black and Violet

2 motive stencils

Instructions
Tips for application
Applicable to: Skin.
Preparations: The Skin should be cleaned and dry before use.
Processing: Skin-friendly tattoo pencil for creative painting and decorating on the Skin. The color can be removed at any time with soap and water.
Drying time: Fast drying.
This must be taken into account: The colour lasts up to 5 days on the Skin.
Applicable to: Skin

To be applied with: pen / marker

Content: 6 parts

Brand: Kreul Kinder

Notices under the CLP Regulation
not subject to classification/labelling
There are no ideas & instructions for this article yet.
Customers who bought this article have also purchased the following articles: